We are proactive in advising our clients!
SBM is certified according to DIN ISO 9001. This has role-model character and is an advantage that pays off for our clients. At first glance, this step seems unusual – people are normally associate quality assurance with tangible products "Made in Germany". But a tax consultancy that works according to DIN ISO 9001?
Services are also products that can be validated in terms of their quality. Thanks to structured organisational processes, clients receive even faster access to current data and facts. The continuous improvement process, i.e. internal audits, routine quality controls and improvements, makes the firm's work even more efficient.
The fact that the high level of performance is now documented with a seal of approval offers further benefits to our clients. As a certified firm, we experience higher acceptance among banks, management consultancies and not least with the tax authorities.
The certificate also positions the team in a proper light: Only with highly motivated and competent employees can the high bar of the required quality standards be met. This ensures that our clients can have confidence entrusting the overall vast spectrum of tax matters to "their tax consultancy". Because the DIN ISO 9001 certificate obliges us not only to maintain the standard, but also to continuously improve quality.
Especially in a field constantly subject to changes legislation, it is extremely vital to organise work according to structured routines. That is our utmost priority.
And while we were at it, we went ahead and obtained the quality seal of the German Association of Tax Consultants.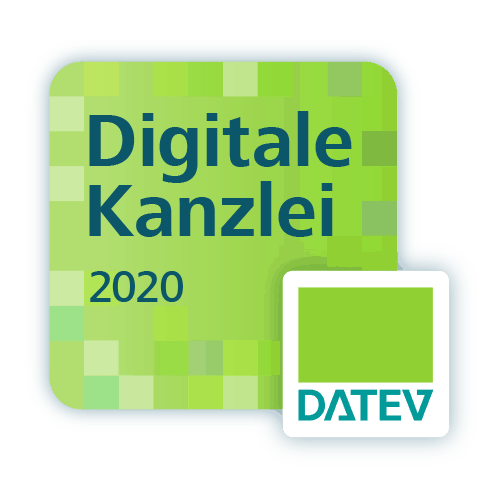 With the label "Digital DATEV Firm 2020", DATEV eG has now recognised us as an innovative tax consultancy. The label is awarded to tax consultants/firms that stand out thanks to consistent digital cooperation with their clients. Using defined criteria, the DATEV uses software to check the degree of digitisation in the areas of accounting, taxes and payroll.
We are incredibly pleased to be among the tax firms honoured!